Obviously Larry Summers has been smokin' the same koolaid/crack pipe that most of congress has not taken a break from since the Fascist-In-Charge, (31 czars and counting), was installed in our White House.
Since when does anybody think that Google is the barometer of economic or any other success?  Larry, how dumb do you think we are?  Stop pretending to be stupid, we know you are not.  Also, keep talking down to us and find out where that gets you…
Larry Summers cites Google search as progress
Of all the statistics pouring into the White House every day, top economic adviser Larry Summers highlighted one Friday to make his case that the economic free-fall has ended.

The number of people searching for the term "economic depression" on Google is down to normal levels, Summers said.

Searches for the term were up four-fold when the recession deepened in the earlier part of the year, and the recent shift goes to show consumer confidence is higher, Summers told the Peterson Institute for International Economics.

Summers continued the administration's push-back against critics of President Barack Obama's handling of the recession, defending the economic stimulus package against Republicans who have tried to paint the program as a failure because it hasn't stemmed the unemployment rate.

"We pledged at the time the Recovery Act became law that some of the spending and tax effects would begin almost immediately.," Summers said in prepared remarks. "We also noted that the impact of the Recovery Act would build up over time, peaking during 2010 with about 70 percent of the total stimulus provided in the first 18 months. Now, five months after the passage, we are on track to meet that timeline. "
And for those of you that want a primer on Larry Summers, try these links out.  For those of you just catching up, make sure to look at the education and organizations and you will start to see the pattern the rest of us are completely and totally aware of, and go all the way to the end of this post for another story.  The corruption goes well beyond donkeys and elephants.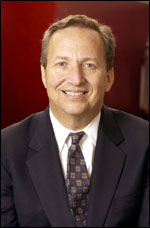 AKA Lawrence Henry Summers
Born: 30-Nov–1954
Birthplace: New Haven, CT
Gender: Male
Race or Ethnicity: White
Sexual orientation: Straight
Occupation: Economist
Party Affiliation: Democratic
Nationality: United States
Executive summary: US Treasury Secretary, 1999-2001
Father: Robert Summers (economics professor)
Mother: Anita A. Summers (public policy professor)
Wife: Victoria Summers (tax attorney, div.)
Son: Henry
Daughter: Pam (twin)
Daughter: Ruth (twin)
Wife: Elisa New (Harvard professor, m. 11-Dec-2005)
High School: Lower Merion High School, Ardmore, PA
University: BS, Massachusetts Institute of Technology (1975)
University: PhD Economics, Harvard University (1982)
Professor: Economics, Massachusetts Institute of Technology (1979-82)
Professor: Political Economy, Harvard University (1983-91)
Administrator: President, Harvard University (2001-06)
D. E. Shaw & Co. Managing Director (2006-)
US Secretary of the Treasury 2-Jul-1999 to 20-Jan-2001
World Bank Chief Economist (1991-99)
US Council of Economic Advisers Domestic Policy Economist (1982-83)
Bilderberg Group
Bretton Woods Committee
Brookings Institution
Center for Global Development Board of Directors
Council on Foreign Relations
Econometric Society Fellow (1985)
Group of Thirty
National Academy of Sciences 2002
Institute for International Economics Board of Directors
Obama for America
Partnership for Public Service Board of Governors
Trilateral Commission
John Bates Clark Medal
Author of books:
Understanding Unemployment (1990)
Reform in Eastern Europe (1991, with others)
Is Larry Summers Taking Kickbacks From the Banks He's Bailing Out?
Why did Goldman Sachs, Citigroup and Morgan Stanley steer millions to a company Larry Summers directed while he administered "stress tests" on them?

Last month, a little-known company where Summers served on the board of directors received a $42 million investment from a group of investors, including three banks that Summers, Obama's effective "economy czar," has been doling out billions in bailout money to: Goldman Sachs, Citigroup, and Morgan Stanley. The banks invested into the small startup company, Revolution Money, right at the time when Summers was administering the "stress test" to these same banks.

A month after they invested in Summers' former company, all three banks came out of the stress test much better than anyone expected — thanks to the fact that the banks themselves were allowed to help decide how bad their problems were (Citigroup "negotiated" down its financial hole from $35 billion to $5.5 billion.)

The fact that the banks invested in the company just a few months after Summers resigned suggests the appearance of corruption, because it suggests to other firms that if you hire Larry Summers onto your board, large banks will want to invest as a favor to a politically-connected director.

Last month, it was revealed that Summers, whom President Obama appointed to essentially run the economy from his perch in the National Economic Council, earned nearly $8 million in 2008 from Wall Street banks, some of which, like Goldman Sachs and Citigroup, were now receiving tens of billions of taxpayer funds from the same Larry Summers. It turns out now that those two banks have continued paying into Summers-related businesses.