UPDATE: 6.24.09: Gov. Mark Sanford has held a press conference stating that he has been having an affair and was in Argentina for the time that he was MIA.  
Sanford Admits Affair, Apologizes To Family
It is being reported that South Carolina Governor Mark Sanford has gone incognito.
SC Governor's Whereabouts Unknown, Even To Wife
COLUMBIA, S.C. (AP) – Where is South Carolina's governor?

The lieutenant governor doesn't know, and neither does a state senator who's a close confidante. Even his wife is in the dark.

Gov. Mark Sanford's unannounced absence from the state capitol perplexed some politicians Monday, and his staff wouldn't say where he was. His wife said she hadn't heard from him in several days—including Father's Day.

"He was writing something and wanted some space to get away from the kids," Jenny Sanford told The Associated Press while vacationing with the couple's four sons at their Sullivans Island beach house. She said she wasn't concerned about her husband, the state's two-term Republican chief executive.
Hmmm?  Who is Gov. Sanford talking to and about what?  Enquiring minds would really like to know.
Can We Impeach Obama and Fire His Czars Yet?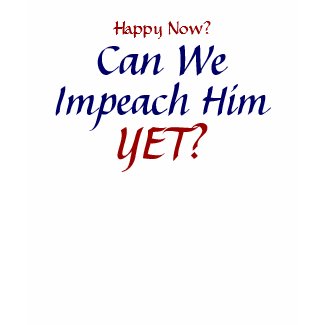 Impeach Obama
by
LogisticsMonster
Shop for a
tee
on www.zazzle.com